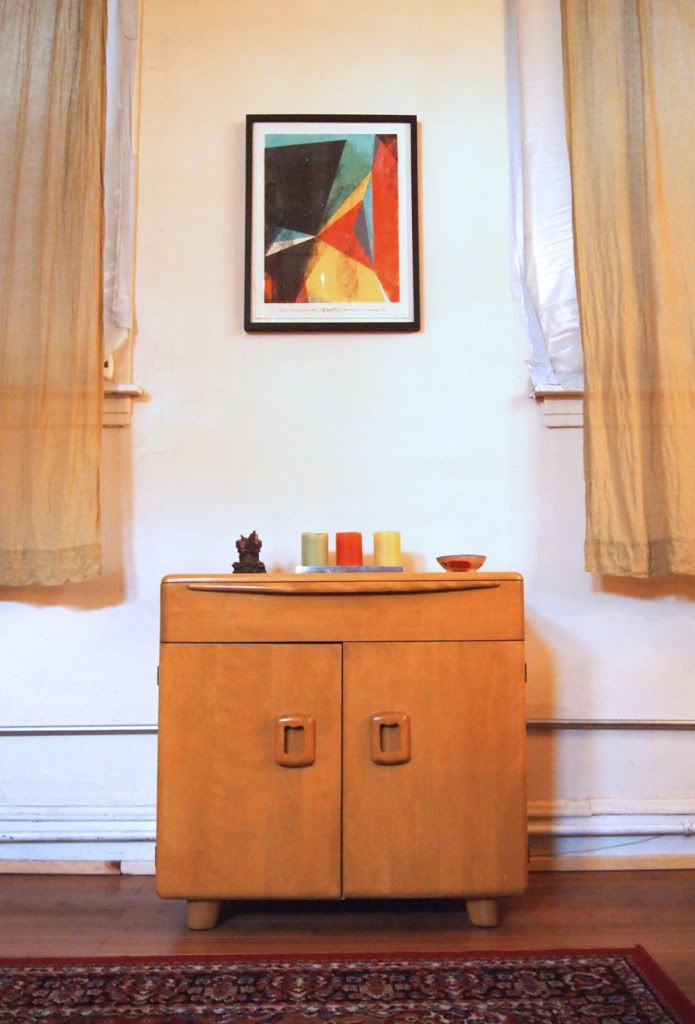 We were excited to interview our friends Ina and Jacob about their home bar. It is a perfect example of a small bar, easily disguised and selectively and purposely stocked with all of the essentials. Ina Strauss is an actress and server at
Nightwood
restaurant.
Jacob Hand
is a professional photographer. They live together in a charming vintage loft in Chicago's Ukranian village with their dog Dakota, A.K.A. Bear.
We love your bar. It is incognito. Where did you find it and what got you interested in making cocktails and collecting for your homebar?
Jacob: I inherited the bar as part of a Heywood-Wakefield furniture set previously owned by my great-aunt. It was probably originally intended to be a buffet or something. I have no recollection of my aunt owning this set because she had it covered with table-cloths and doilies. After she passed, and I was moving to Chicago, my Mom gave the set to me to furnish my apartment. I fell in love with the wood finish and it's how I started getting interested in Mid-Century Modern furniture.
Ina: Ooh, Mid-Century Modern. So hip. Jacob takes great pride in having a fully stocked bar. He makes a hell of a Manhattan. I think it's how he got me to spend the night the first time. We are prepared for you to come over and spend the night too. What's your poison?
We have a little something for everyone. Except maybe for vodka drinkers- you'll have to try the bison grass vodka. There's no real bison in it and it's good. We will ALWAYS have some bourbon. The favorite right now is Bulleit.
You have a themed cocktail night with some friends. What is the idea behind it, how did it get started?
Jacob: We belong to a group of friends who decided to watch the entire Twin Peaks series as a regular gathering. There are lots of food referenced in the show which we prepared as snacks for the gatherings: donuts, "damn-fine" coffee, cherry pie, creamed corn, etc. After we exhausted those we started getting a little creative; one couple made organic vegan sugar-cookies in the shape of Douglas Fir pine-trees, another couple made a cherry pie cocktail made from Chambord, vanilla vodka, and a sugar-cookie rim. So we took that idea and decided to make an pine-related cocktail. We sought out a pine liqueur and ended up making The Douglas Fir (a variation on The Evergreen). See recipe below.
What was one of your most exciting new purchases for your homebar?
Ina: I think some of the recent cool acquisitions are the liqueurs. As Jacob mentioned, the pine liqueur is cool. I really like Hum (from Chicago)- it's like a punch in the face when had neat. Perfect nightcap. We also keep a variety of serving glasses. None of them are customary or fancy but we have from thimble size to Jacob size.
What are your top 5 staples for your homebar…can't live without, always gets replenished?
Jacob: It's not a huge bar, so we have to be selective. As for the staples of our bar, as Ina said, we have something for everyone. We've got a couple kinds of rum, a couple kinds of tequila, a couple kinds of gin- usually Right Gin (for gimlets) and Hendricks (for martinis), a scotch or two (one blended, one single-malt). Ina insists on a bottle of St. Germain, but most of all it's about the bourbon. We usually have 3-5 bottles of bourbons and/or rye at one time.
Would you care to share a favorite recipe?
The Douglas Fir
1.5 parts Bulleit Rye
.5 parts Zirbenz Pine liqueur
muddled sprig of mint