We have been wanting to do a regular feature on people's home bars for some time now. The funny thing we have realized about the home bar, is that understandably, it can be a difficult thing to keep stocked. My friends Eric and Jamie are an exception to that rule. They keep a stellar home bar A.K.A. the Evergreen Lounge, with an amazing liquor collection and were kind enough to share it with us. We asked them a few questions about the inspiration behind their bar.
Eric Davis is a server at
Nightwood
restaurant where he is also one of the creators of the cocktail menu. He infuses spirits, makes liqueurs, simple syrups and his own bitters which are featured in several of the drinks. The Chicago Reader recently published an
article
about the Nocino he makes for the restaurant
Jaime Lynn Davis co-owns and manages a sustainable event venue in Chicago called the
Greenhouse loft.
She is also a photographer.
Eric, you have an amazing collection of spirits and bar pharaphernalia including an awesome Tiki bar which you mentioned you bought several years ago for $50. What got you interested in making cocktails and collecting for your home bar?
We had a really big bar growing up. It started out in the corner of our family room and eventually occupied the whole room. It served entertaining purposes but mostly displayed my father's ever growing collection of spirits and liqueurs. When I was a kid we traveled a lot, so my father was always on the hunt for new additions to the shelves. So I guess I'm following in his footsteps.
Jamie and I live a few blocks away from the Violet Hour. When it first opened we were hooked right away, probably going at least once a week. Eventually we started making drinks at home, buying cocktails books, and visiting Binny's on a regular basis.
| | |
| --- | --- |
| | |
| | |
| --- | --- |
| | |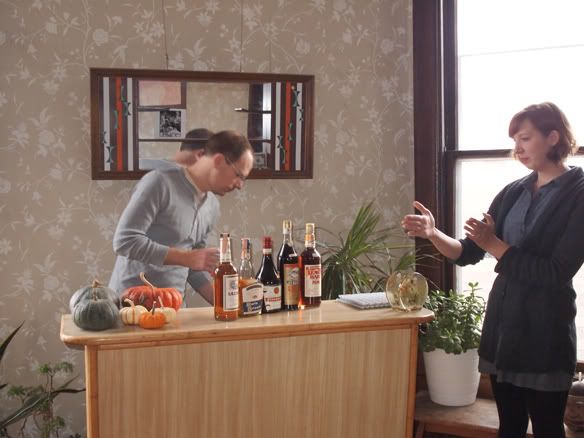 Jamie, you two have thrown some pretty awesome cocktail parties at your home, I was lucky enough to attend one. Any advice for preparing for a cocktail party?
Hosting a cocktail party is a lot of fun but it can be a lot of work and get expensive, so having a clear and concise menu planned and printed is a good idea. We tend to go a little overboard, but are getting better! We stick with certain liquors like gin, whiskey and rum, then develop a cocktail list. This allows for people to try a little of each. We also like to play the bartenders. We practice the cocktails before the party, and make little cheat sheet recipes cards so we can make the drinks efficiently.
Making sure the parties are smaller is also a good idea. You want to have the right glassware, so checking out thrift stores or ikea is a good way of stocking up on interesting stuff -- if you don't want a billion glasses after the party, maybe split the cost with another friend, then you both have a new collection of glasses after the party!
We are usually the bartenders only up to a certain point in the evening- it's actually really fun and you get to visit with people and tell them about the drinks as you make them, and we don't mind doing the work. After a couple hours though it's a good idea to join the party and mingle.
For our NYE cocktail party, we stopped making drinks at midnight, and after that we had a pre-made punch and an absinthe drip out for everyone. At that point everyone was fine with scooping up some rum punch or trying out the drip.
Food is also very important. If you are hosting a cocktail party, we think it's fair to ask the guests to bring an horsto share. Also, to make it extra special, we have sent out invites in the mail to our guests, with probation era themes - even a special password they must know for the door. It's really fun, people really get into it - even dressing the part!
| | |
| --- | --- |
| | |
| | |
| --- | --- |
| | |
You guys have some pretty interesting bottles in your collection including bottled cocktails and spirits that are no longer available in the US. What was one of your most exciting purchases?
A few years ago we found a bottle of Wray & Nephew Pimento Liqueur. As far as I can tell, this pimento liqueur (also know as allspice dram) hasn't been imported into the US for around twenty years. Using recipes I found online and in Imbibe magazine, I've tried replicating my own version several times before finding the bottle. So it was interesting to finally taste the real deal and compare it to my own versions.
Where do you shop for your spirits?
Lush and Binny's here in Chicago. Whenever we are in Madison visiting Jamie's family, we stock up at Woodman's.
Eric, are you working on any new liqueurs or cocktails?
I started a green walnut liqueur (nocino) back in July. It's now ready to be strained and cut with simple syrup. After that I would like to work on a Vin D'orange when winter citrus is in season.
Would you like to share a recipe?
This is the time of the year we like to make our version of an eggnog using Silk pumpkin soy milk, which is only available in Nov and Dec.
1 1/2 oz spice rum (try Old New Orleans Spiced Rum)
1/2 oz maple syrup
1/4 oz amaro (we've also tried allspice liqueur, walnut liqueur and sherry)
5 oz pumpkin soy milk
Fee's old fashion aromatic bitters and orange bitters grated nutmeg
Serve hot or cold.